In celebration of Black History Month, let's explore how the Black Community has shaped the fashion & beauty world!
The Black Cosmetics Pioneer – Annie Turnbo Malone
Malone was considered to be one of the first African American women who earned her millionaire status in the US. She was born in Illinois, by the age of 20, she used her chemistry knowledge to form her first shampoo and scalp treatment. Her product became a success in 1902
Distribution Channels were not accessible to Black people during Malone's days. She sold her products with her assistant by going door-to-door. And the product started to get the buzz as it spotted a gap in the market: although there were commercial shampoos targeted towards this niche, it was the only product to straighten the natural curly texture of Black hair without damaging it.
She expanded her business, thus naming it Poro Products. It later became a National brand after the 1904 World's Fair, a large international exhibition showcase. In 1918, she built a factory and a cosmetology school, Poro College. She stayed in business after a divorce and the great depression. While doing so, she contributed and helped a lot of charities throughout her lifetime.
And it must be known, she was the employer of the famous Black entrepreneur and activist, Madam CJ Walker. Today, her legacy is still on Earth, as the St. Louis Colored Orphans Home.
The 60-second-rule by Nayamka Roberts (@LaBeautyologist)
Whether you heard it or not, Roberts had popularized this routine to the world of the skincare junkies. The rules of this 'Free.99' routine are simply cleansing your face with your fingers. She explains that the average person only spends 15-20 seconds washing their face, it is not enough for your cleanser to battle your skin concerns. This routine helps the face by improving the texture of the face, cleaning the pores and promoting circulation. The #60secondrule has been proven to be a must-do step by people's reviews and reactions online!
Reviews on Twitter:
@if_iknewbetter: Not to be dramatic but the 60 seconds rule saved my skin in a week @LaBeautyologist
(https://twitter.com/if_iknewbetter/status/1181618814422794244?s=20)
@_kafayaat: The 60 second rule by @LaBeautyologist has literally changed the entire look of my face! Y'all really need to listen to that free gem! Wash your face for 60 seconds! I promise it works
(https://twitter.com/_kafayaat/status/1137813151876046848?s=20)
@sydmoise: thankful for @LaBeautyologist 60 second rule- CLEANSE UR FAVE FOR 60 SECONDS FOLKS
(https://twitter.com/sydmoise/status/1065762910125858816?s=20)
@skincare_hub: •Wear SPF everyday whether you're going out or not. •Know your skintype and ingredients that work best for you and stick to it. •Double cleanse at night always using @labeautyologist 60 seconds rule. •Use witch hazel ONLY when you're wearing makeup •Silk pillow case 24/7
(https://twitter.com/skincare_hub/status/1115620555724660737?s=20)
Robert's video on the 60 Second Rule on Youtube:
https://www.youtube.com/watch?v=a9yyZ9PysjI&feature=youtu.be
Y2K Aesthetic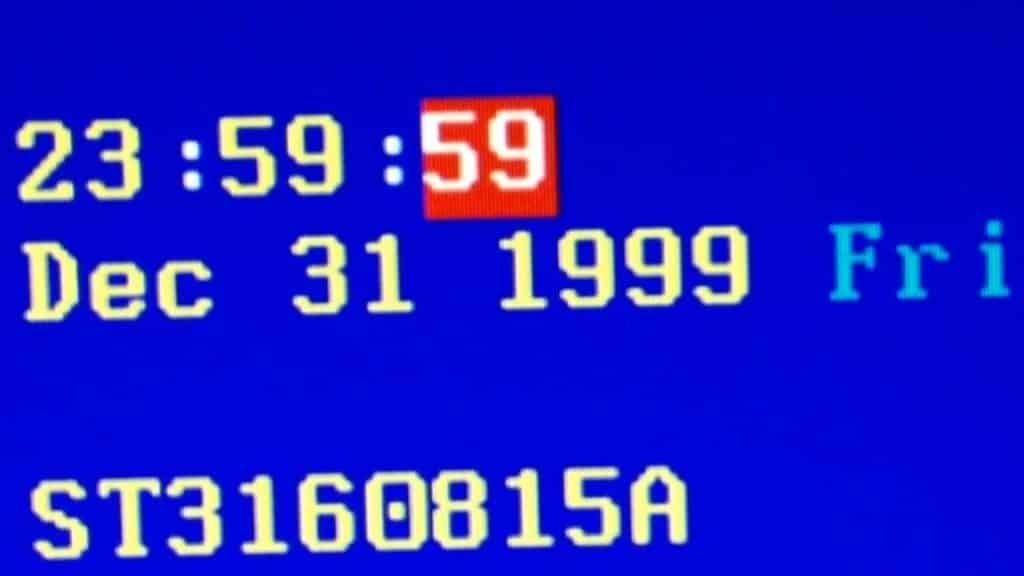 Y2K, or The Year 2000, was a colorful and fun time. NOT! The reason why people started expressing experimentalism and creativity in the beauty world and what not was because of a massive scare, caused by a computer bug. People thought that the world was going to end.
According to National Geographic, the Y2K bug caused a global panic because computers were not able to interpret dates beyond December 31, 1999. Only the last two digits of the year would represent the years. So when January 1, 2000 was coming, it could have turned to January 1, 1999. This was a problem to businesses like banks, technology centers, power plants and transportations e.t.c people believed that the computer crash was going to cause an apocalypse.
Now back to the beauty world. Y2K was everything, if it wasn't girly – it was boyish, if it wasn't baggy – it was skimpy, if it wasn't metallic – it was vibrant, if it wasn't cyber – it was street!
Jackie Aina, a Nigerian-American Youtube Star on her video, Things Black Culture Popularized, explains how the Black community started the Y2K fashion wave.
https://www.youtube.com/watch?v=AM7tjVVAGSQ
"right now something that is very very very popular that I'm actually really here for is the Y2K aesthetic…" at 3:50
What was it like to be wearing Y2K? It was never praised like today, in fact, according to Rashida Renée on ELLE, who explains that celebrities like Lil' Kim, Mariah Carey and Foxy Brown were always criticized and labeled as 'Worst Dressed', while the 'proper' dresses were 'Best Dressed' on the runway. Interestingly, the Instagram engagement that the 'worst dressed' red carpet walkers had was better.
What is Y2K now? Resurrected – – Well it was never dead. The article mentioned above got me reminiscing from my childhood. Then I remembered these iconic looks that has a special place in my memory:
So Y2K stayed but it wasn't called Y2K anymore, the different looks started to have its own names, during the 2010s, they were called Tomboy, Preppy, Hip-Hop and whatnot. Today, the trendiest look names are E-Girl/Boy, VSCO, Art Hoe, Soft Girl/Boy and…………….. Y2K.
Y2K today is not as versatile as before, now it has a specific look. It's fun, cool and retro.
Honorable mentions from Aina's video:
Styling of baby hairs
Super long nails
Big Lips
Also from Aina's video at 14:08, "Another painfully obvious thing that black people didn't even intentionally make popular, we just existed, our big lips."
Big Lips, or more popularly known as, the 'Kylie Jenner' Lips. It took the beauty world to another turn like when thick bushy eyebrows dethroned the thin eyebrows trend, also popularized by another black woman, Diana Ross. The 70s Diana Ross eyebrows flipped the game, even though the 80s went back to being thick and bushy like the 60s, the 90s turned back time and made brows thin again!
The Big Lips trend was a big 'culture' change. More people began to get lip injections and overline their lips in their makeup routines. A study conducted by the American Society of Plastic Surgeons (ASPS), shows an increase in lip augmentation procedures. The statistics report shows the difference of lip augmentation procedures done between the year 2000 and 2019. In 2000, only 18,589 procedures were done. And in 2019, a whopping increase, 31,789 procedures took place! Why? It's a safe bet that ever since Kylie Jenner posted her selfie in 2014 with plumper lips, and coming clean about them in an episode of Life of Kylie, that she was getting her lips done, the influence started flooding the world… while black people…have natural big lips…which were unlikeable???
Aina pointed out the irony of the Big Lip trend. Before the acceptance of big lips, they were once ridiculed for. Not only are big lips now a trend, it has become part of someone's career.
Black people getting ridiculed for having big lips is not just a story about being bullied, it has a dark history. Minstrel shows, a form of racist 'entertainment', where an actor performed in a way that was dehumanizing and mocking of black people, in black face. An obvious feature to these shows are the overlining of the lips representing the 'lips' of a black person.
The term 'Kylie Jenner' Lips proves what Jackie Aina mean: 'the regurgitating of things that naturally come to us, and rebranding it, packaging it, selling it, making a career out of it, commodifying it basically where for us it's a weapon, it's a tool, it's a flaw.'
How Lip Augmentation works?
Also known as lip fillers, this procedure is quick and simple. According to the National Center for Biotechnology Information (NCBI), the key ingredient to lip augmentation is Hyaluronic Acid (HA). Polyacrylamide is also available, but it is less common because it may cause granuloma. We ourselves have HA in our body, but overtime, the lip loses volume because of age, sun exposure and more. The purpose of the HA in lip fillers is to replace the HA that was lost.
Inclusivity
The beauty industry is one of the biggest industries in the market. According to Statista, in the year 2019, the beauty industry earned a revenue of USD49.2 billion in the United States alone! For such a universal market, the beauty industry still fails to cater to people of color. This includes: foundation, lipstick, eyeshadows – basically, everything.
Fenty Beauty
Fenty Beauty is a cosmetics brand that was launched back in the year 2017 by mega star Rihanna. When the brand launched, the foundation caught the most attention, not of it's formula, packaging or whatsoever, it was the shade range which consisted of 40 colors (now 50), covering not only the light skinned, but also the darker skinned. It is almost satirical that 2017 would be the year people became more conscious about foundation shades that are lacking. Not saying that Fenty was the first brand to make foundation for POCs, but rather, it offered more. The brand didn't just offer a 'dark' color, the brand closely looked into making shades with different undertones – because not everyone is warm, or neutral, or cool toned.
So why is it so hard to have darker shades? It's not. According to Al-Nisa Ward, the owner and president of Cosmetic Science Innovations who appeared on Vox, said that the claim of product development for dark shades being more difficult is false. She explains, foundations have the same base formulas, the difference between shades is just up to the differing of ratios in pigments. There are 4 basic pigments in foundations – Titanium Dioxide, Iron Oxide Red, Iron Oxide Yellow, Iron Oxide Black.
PAT McGRATH Labs
PAT McGRATH Labs is a cosmetic brand that was founded in 2016 by the legendary makeup artist Pat McGrath. She is known for her experimentalism with bold colors and materials like feathers and gold leafs.
The makeup line is known for its luxurious packaging, shiny shimmers, pigmented lipsticks and more. McGrath appeared in an interview with Guardian writer Sali Hughes. "…a lot of the time when you buy a normal shadow, it doesn't always work on every skin tone – it's chalky or too light – so that's my main aim, to bring makeup for all skin tones to the fore." She told Hughes, 'there was no makeup for women of color…NOTHING"
McGrath does not only bring inclusivity when it comes to race. She works with everyone, like men, drag queens and plus size people. To her, "It's about pushing boundaries. I believe absolutely, the world wants something different, people want back their individuality."
Beauty Bakerie
Beauty Bakerie is an indie cosmetics brand founded in 2011 by Cashmere Nicole. The indie brand is known for it's cute and 'yummy' theme. Where products are designed or inspired by foods found in bakeries, like cartons of eggs, flour bags or utensils.
After surviving breast cancer. Nicole became more health conscious and looked closely what ingredients are in the beauty products people put on everyday. She developed the brand to be cruelty-free and vegan. In addition, in 2016, Beauty Bakerie became associated with Sugar Homes, which donates money, clothes, toys and more to orphanages. Their journey has helped children from Uganda, Indonesia and Zanzibar.
For such a fan favorite brand, it wasn't an easy journey for Nicole. According to an interview with Aimee Simeon in Refinery29, Nicole observed that the beauty industry was focused on 'self', she thought, approaching the cosmetics business with 'thinking about others' would be the right way for her.
Apart from cancer, raising a daughter by herself, and investing into the side-business. Being a black entrepreneur was not going to be easy, "I've learned that being Black and running an indie brand is extremely tough. As a child, I remember hearing that you have to work twice as hard when you're Black — and now I know that it's true." However, Nicole never gave up, her constant perseverance and hard work had brought her to where she is today. A successful strong Black businesswoman.
Why is being a black entrepreneur hard?
According to Devin Dixon, Black entrepreneurs lack access to 'people, education, opportunity, and capital'. Dixon, who started being an entrepreneur at the age of 18 and the journey was hard. He recalls to a moment when he was advised by a Black business leader to have a White man become the face of the company, this was shocking. Dixion pointed out that this type of idea is part of the problem and plays into the narrative that Black people are not collaborative or don't work.
Systematic racism in society is still very apparent. And it is a reason why being not only a Black entrepreneur, also in general, Black is hard. There is lack of safety when it comes to being a Black entrepreneur. Jumping to being a business owner or CEO is risky, the access to important materials makes it harder to obtain. "For example…these top execs have strong ties to the top schools such as Stanford or Harvard. Given that top schools tend to only have about a 5% black population, we have less access to powerful networks."Video by Sam Dey about being a Black entrepreneur.
Video by Sam Dey about being a Black entrepreneur:
2:05 'One thing I noticed about these events is that the Black race are underrepresented at the majority of these events…'
6:06 'Particularly in the UK, young black males are seen as a certain way, whether we like it or not, we are often portrayed as trouble makers because of the way we are depicted in the news….'
Support the Black Community
As we observed, it is acknowledged that the Black community has contributed a lot to society, however, it gets rebranded as 'an invention' or 'a trend' curated by non black celebrities or influencers. I remember a sign from one of the Black Lives Matter protest that says something like 'You enjoy our culture, but hate our People.' This article was not written to tell people to stop participating in the culture, but rather, appreciate and give credit where credit is due.
---
References:
"The PROFESSIONAL skincare tip that will … – YouTube." 11 Jan. 2019, https://www.youtube.com/watch?v=a9yyZ9PysjI. Accessed 31 Jan. 2021.
"Four Pioneering Black Cosmetics Entrepreneurs – LiveAbout." 16 Feb. 2018, https://www.liveabout.com/black-cosmetics-pioneers-2442513. Accessed 31 Jan. 2021.
"Annie Turnbo Malone – Historic Missourians – The State Historical …." https://historicmissourians.shsmo.org/historicmissourians/name/m/malone/. Accessed 31 Jan. 2021.
"Things Black Culture Popularized | Jackie Aina – YouTube." 11 Oct. 2020, https://www.youtube.com/watch?v=AM7tjVVAGSQ. Accessed 31 Jan. 2021.
"Y2K bug | National Geographic Society." https://www.nationalgeographic.org/encyclopedia/Y2K-bug/. Accessed 31 Jan. 2021.
"Times people thought the world was going to end – Insider." 24 Jan. 2019, https://www.insider.com/apocalypse-end-of-world-predictions-theories-2019-1. Accessed 31 Jan. 2021.
"Huge Moments In Fashion History That Were Inspired By Black Culture." 6 Oct. 2020, https://www.elle.com/uk/fashion/a34244867/fashion-inspired-by-black-culture/. Accessed 31 Jan. 2021.
"Minstrel as Costume – Scalar." https://scalar.usc.edu/works/birthofanindustry/minstrel-as-costume. Accessed 31 Jan. 2021.
"2019 Plastic Surgery Statistics Report – American Society of …." https://www.plasticsurgery.org/documents/News/Statistics/2019/plastic-surgery-statistics-full-report-2019.pdf. Accessed 31 Jan. 2021.
"Keeping Up with the Kardashians: Kylie Jenner Plastic …." 29 Sept. 2020, https://screenrant.com/keeping-kardashians-kuwtk-kylie-jenner-plastic-surgery-timeline/. Accessed 31 Jan. 2021.
"Shaping Lips with Fillers – NCBI – NIH." https://www.ncbi.nlm.nih.gov/pmc/articles/PMC4645142/. Accessed 31 Jan. 2021.
"How do dermal fillers work? – The Victorian Cosmetic Institute." 17 Aug. 2016, https://www.thevictoriancosmeticinstitute.com.au/2016/08/dermal-fillers-dermal-fillers-skin/. Accessed 31 Jan. 2021.
"Revenue of the cosmetic & beauty industry in the U.S. 2002 … – Statista." 24 Nov. 2020, https://www.statista.com/statistics/243742/revenue-of-the-cosmetic-industry-in-the-us/. Accessed 31 Jan. 2021.
"How beauty brands failed women of color – YouTube." 14 Nov. 2017, https://www.youtube.com/watch/v5e4gwDGrNk. Accessed 31 Jan. 2021.
"Beauty queen: how Pat McGrath became the world's … – The Guardian." https://www.theguardian.com/fashion/2017/aug/06/beauty-queen-how-pat-mcgrath-revolutionised-makeup. Accessed 31 Jan. 2021.
"Pat McGrath's Best Makeup Looks in the Pages of W | W Magazine …." 21 Jul. 2018, https://www.wmagazine.com/gallery/pat-mcgrath-best-makeup/. Accessed 31 Jan. 2021.
"The Makeup at Valentino S/S 2020 Was Like Gold Face … – The Cut." 30 Sept. 2019, https://www.thecut.com/2019/09/valentino-spring-2020-makeup-pat-mcgrath.html. Accessed 31 Jan. 2021.
"Beauty Bakerie: Cruelty Free Cosmetics & Beauty Products." https://www.beautybakerie.com/. Accessed 31 Jan. 2021.
"Sugar Homes – Beauty Bakerie." https://www.beautybakerie.com/pages/sugar-homes. Accessed 31 Jan. 2021.
"Beauty Bakerie Founder Cashmere Nicole Interview – Refinery29." 6 Nov. 2018, https://www.refinery29.com/en-us/beauty-bakerie-founder-cashmere-nicole-interview. Accessed 31 Jan. 2021.
"The Changing Faces & Mindset of Black Entrepreneurship … – Medium." https://medium.com/@BlackMage1987/the-changing-faces-mindset-of-black-entrepreneurship-dd000dbffb1. Accessed 31 Jan. 2021.
"My experience being a black entrepreneur – YouTube." 10 Apr. 2017, https://www.youtube.com/watch?v=66ak9PWUyuc. Accessed 31 Jan. 2021.